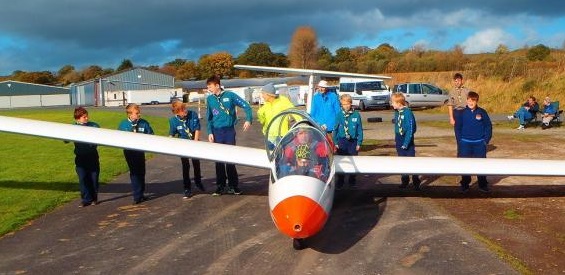 Group bookings and corporate gliding activities
We are pleased to welcome groups, social clubs, scouts and corporate teams to Shobdon on week days, bank holidays or at weekends.
Maximum capacity is normally 12 persons/flights per day.
Flights
Flights commencing with a ground briefing. During the flight the instructor will demonstrate the controls and may let you to "have a go" if you wish. Your flight includes 3 months Membership. We hope that you will wish to return to learn to fly.
Catering and facilities
The airfield has a canteen and bar. Snacks are available or we can arrange a buffet or hot meal for your group.
Costs
For groups of 4 or more we offer a 10% discount from our usual "Introductory flight" price. This includes an aircraft tow launch to 2,000 feet altitude . We can also arrange flights with a tow to 1,500 feet for a reduced cost.
How to book
Please&nbspcontact Les Kaye&nbsp to arrange the date of your choice.
Herefordshire Gliding Club Limited, Shobdon Airfield, Herefordshire HR6 9NR. Webmaster Leslie Kaye © 2021 All rights reserved.